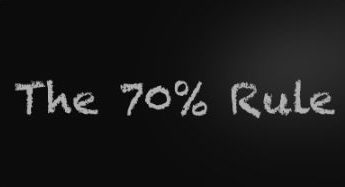 For many of us buying a home is always a daunting and intimidating milestone in life. Whether you are buying a home for your growing family, relocating to a new city, or needing to downsize from the now to large family home. Every buyer looks at buying a home differently. The bright new shiny home's are easy to move right in to, even though you would change every option. There is just something about a new home that makes even things you do not like tolerable. The worn home's that have been unloved for ages, those take a special person. There are pricing premiums associated with both. Navigating this balance of ease and investment is tricky. I hope to give some insight helping you think of your home from an investment standpoint.
Currently my  husband and I are finishing up our second "flip" project. Since day one I have honestly been terrified to pay the new home premium. My husband bought a small home around 1800 sq. ft. soon after we were engaged. I thought the reason's we used then were because we were just starting out, but they hold true no matter the stage in your life. Pro's for purchasing a home that needs love can benefit from size to a larger amount of spending money each month. The possible premium after the home is bought can can be avoided as best as possible with the proper planning. The future possible return on the investment should be the starting point. Look at remodeled home's nearby with comparable square footage, bedrooms, and bathroom. Look and see what they were listed at per sq. ft. and what they ended up selling for. As a possible buyer, you should already be thinking of the home from a sellers stand point. You should not buy a home without doing so. Unless your are planning on living there forever of course. Some of the best websites for personal research are each good and different things.
http://www.zillow.com: Best for researching previously sold homes in the area and is super easy for "For Sale by Owner's" to utilize
http://realtor.com: Best for having the most up to date listings, but not all realty companies in our area utilize this site.
http://Trulia.com: Has the easiest to use crime mapping of area's.
Researching areas around a property takes serious time, but it will be worth it in the end. Talking with different real estate brokers in your area to get different opinions on the potential value of the home regardless of the current state.
There is a ratio that some investors use that is referred to as the 70% rule. This is a theory that the purchase price, repair cost, carry cost, and closing cost should not be over seventy percent of the possible re-sale value. From a strict investment standpoints I do believe this theory holds. From a basic home buyers standpoint that number can waiver some. Caring cost are things such as insurance, utilities cost, and interest of the home loan. Whether you purchase an already re-done home or a home that needs to be renovated, those costs with still be incurred. Getting the closest to the accurate amount for estimating renovation costs is key.
This number always seem's to be so aloof, thanks in most part to reality TV. Yes depending if you are wanting builder grade products in your home or whether you are going to want marble will be the largest pricing change. Just in real terms you are looking at a materials cost for a medium walk in shower for subway tile around $500 to $700, depending on size. If one was to use https://www.biggerpockets.com/real-estate-investing/find-propertysay marble subway tile shower with a decorative wall inlay, the materials cost could rise up to $3,000 depending on the various product details. The labor for sub contracting trades are pretty industry standard. Knowing what type of finishes you are going to want to go with and communicating that to your contractor will give you a much more accurate amount as to what to expect down the road. Also using a contractor will add a normal range is 20% to 30% of the cost of repairs to the overall estimate. I did not use a contractor on either home. I didn't probably because I like to think I can do anything no matter the stress or headache.
The details of the design do not have to be permanently nailed down before the home is purchased. Large ticket items, such as structural changes need to be pointed out as soon as possible. These things are not always foreseeable and that is where the contingency budget comes in. I like to use a contingency fund that can range from $5,000 to $20,000 just depending on the renovation. Using a contingency and still being close to the investment formula range, probably means that the house is going to be a pretty good investment.